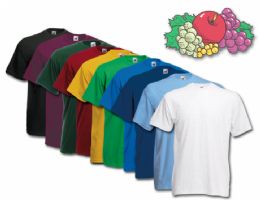 Fruit Of The Loom Mens Assorted T Shirts, Assorted Colors Size 3x
Unit Price: $2.11
Case (72 Pieces): $151.92
Fruit Of The Loom Mens Assorted T Shirts, Assorted Colors Size 3x at low wholesale prices. Socksinbulk.com offers Mens T-Shirts at bulk discounted prices.
Fruit Of The Loom - Slightly Irregular
50/50 Cotton Poly Blend
Packed Assorted Colors To Case

Assorted colors contain 2 or more colors per case, no color brakedown.
The colors you see in the image to the left are only examples of assorted colors.
You may or may not receive these colors
Please allow 5-7 business days for processing.