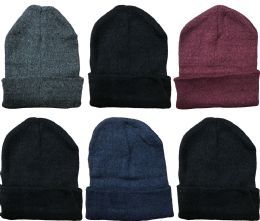 Yacht & Smith Unisex Winter Warm Acrylic Knit Hat Beanie
This item qualifies for free shipping.
Shipping Disclaimer. (?)
Unit Price: $2.52
Case (6 Pieces): $15.12
Yacht & Smith Unisex Winter Warm Acrylic Knit Hat Beanie at low wholesale prices. Socksinbulk.com offers Winter Beanie Hats at bulk discounted prices.
WINTER BEANIES: Get a 6 pack of beanies for you and the family. Choose from various assorted colors to match to different outfits this winter season.
ASSORTED WINTER HATS: Keeps your head and ears warm when the temperatures are low outside.
KEEP YOUR HEAD WARM: Stretchy and offers the comfort that you need for long periods of wear. Ensures that your head is cozy. Great for wearing during your commute to work, skiing, snowboarding, or simply for a walk in the cold.
COZY WINTER HAT: One size fits most men and women. Buy in bulk and save, each pack includes 6 hats!
COLD WEATHER CAPS: These unisex hats are 100% acrylic. Where quality meets affordability.
Understanding the importance of comfort and warmth during the cold weather we offer to pay your attention to these winter hats. Unisex beanies allow you to achieve two goals in a row.
Wearing this acrylic hat you can protect yourself from cold air and look fashionable. Thus you will stay healthy and stick out of the crowd. Cuffed skull cap provides with additional warm features.
Due to material your head feels comfortable and non-straiten at the same time. Design of the beanie hats allows to wear it both women and men. Enjoy the cold months being in safety!
This Hat Measure is 8 inches Folded, 11 Inches Unfolded