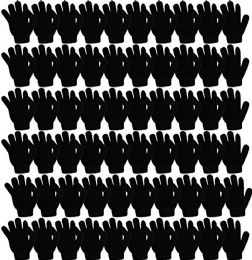 Yacht & Smith Unisex Black Magic Gloves
This item qualifies for free shipping.
Shipping Disclaimer. (?)
Unit Price: $1.55
Case (180 Pairs): $279.00
Yacht & Smith Unisex Black Magic Gloves at low wholesale prices. Socksinbulk.com offers Knitted Stretch Gloves at bulk discounted prices.
"Stretchy ""Magic"" Gloves fit most sized hands for men and women. The gloves are called ""magic"" gloves because they stretch as they are made from 100% Acrylic.
"
Bulk pack of winter gloves includes 60 pairs of assorted gloves. Wholesale lot at low pricing.
One Size Fits All. Perfect for the winter time and keeping the hands warm.
Elastic Cuff For Snug Fit. Great for gifts and stocking stuffer with a whole lot of gloves!
Buy Gloves in Bulk to save more. Great for parties, favors, team uniforms, donations, and more.