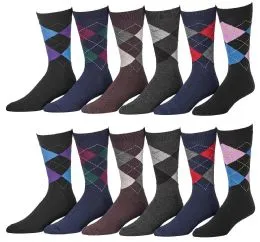 Yacht & Smith Men's Designer Pattern Dress Socks, Cotton Blend
This item qualifies for free shipping.
Shipping Disclaimer. (?)
Unit Price: $1.89
Case (12 pairs): $22.68
Yacht & Smith Men's Designer Pattern Dress Socks, Cotton Blend at low wholesale prices. Socksinbulk.com offers Mens Dress Sock at bulk discounted prices.
80% cotton
DESIGNER DRESS SOCKS: Choose from various designs and color combinations for every outfit in your wardrobe. Each pack includes 12 pairs of socks with different patterns, motifs, or colorways.
MENS DRESS SOCKS: Your wardrobe is never boring with this assortment of dress socks. Wear them to work, casually, to an event, party, wedding, and more! Wear these socks in the office for some flair.
STYLISH SOCKS FOR MEN: This socks have a spandex stretch fit for optimal comfort, Includes a elastic ribbed top for stay up performance. Features a heel pouch for a contoured fit, and long lasting quality wear.
PATTERNED DRESS SOCKS: Wear them with jeans for a more casual look. Or wear them with your favorite pair of pants or slacks. Either way, when sitting down your bright socks will be eye-catching!
Choose from a variety of stylish dress socks for men. Also makes for a great gift for anniversaries, birthdays, and the holidays. Each pack includes 12 pairs of dress socks. Assorted styles including various motifs, patterns, solids, and different colorways. Made with 80% Cotton 18% Nylon 2% Spandex- comfort is our priority. These funky socks are produced with fibers and made for long lasting wear. Size 6-12.5 will fit mens shoe sizes 8-12.