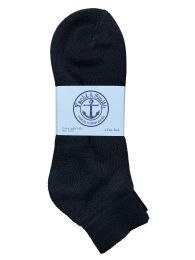 Yacht & Smith Men's Cotton Terry Cushion Athletic LoW-Cut Socks King Size 13-16 Black
Unit Price: $1.10
Case (24 Pairs): $26.40
Yacht & Smith Men's Cotton Terry Cushion Athletic LoW-Cut Socks King Size 13-16 Black at low wholesale prices. Socksinbulk.com offers Big And Tall Mens Ankle Socks at bulk discounted prices.
Men's Cushioned Sports Athletic Socks Made of 80% ringspun cotton, 15% polyester, and 5% spandex. Perfect for going to work, playing sports, exercising, or just taking a stroll. Solid color low-cut ankle socks are soft and comfortable ideal for guys on the go.
Strong and soft ring-spun yarn is made by twisting cotton strands to make a very fine, strong, soft rope of cotton fibers. Ring-spun cotton sports socks are more durable and last longer than their regular counterparts so they are great for high-impact sports and running.
Athletic socks feature a stay-up performance top, spandex for a better fit, extra cushioning for absorbing shock. Just right for running, cycling, basketball, and more. Moisture-wicking cotton draws sweat away from your feet keeping you cool and dry all day long. Natural formed heel and stretch ribbed top keeps its shape while you work out
Machine wash/dry with like colors. Won't fade or stretch in the wash so they always look like new. Men's sock size 13-16 fits shoe size 12-15