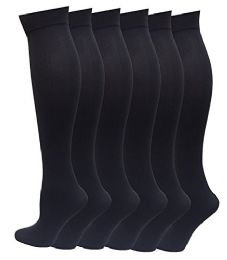 6 Pairs Pack Women Knee High Trouser Socks Opaque Stretchy Spandex (many Colors) (dark Gray)
This item qualifies for free shipping.
Shipping Disclaimer. (?)
Unit Price: $1.88
Case (6 Pairs): $11.28
6 Pairs Pack Women Knee High Trouser Socks Opaque Stretchy Spandex (many Colors) (dark Gray) at low wholesale prices. Socksinbulk.com offers Womens Trouser Sock at bulk discounted prices.
WOMENS SOCKS: If you want to buy opaque socks these ones are definitely a wise choice to make. Due to assorted colors you can choose from black, beige, coffee, dark gray, navy, white or get the assortment. Womens socks are perfect for wearing with heels, pumps, shoes, flats, and more. Wherever you go the 6 pack ensures that you have socks throughout the week.
KNEE HIGH SOCKS: Knee highs are ideal for wearing with dresses and skirts below knees. You can wear it casually and for formal occasions. Ladies knee high socks allow you to look nice no matter what. Also it can be a great gift for friends, loved one or family members.
TROUSER & DRESS SOCKS: Trouser & dress socks are great with trousers and leggings to keep the feet warm, and with boots to catch perspiration.These stylish socks are also available for plus size women, or simply for women with a generous calf-muscle.Each pack of trouser socks for women includes 6 pairs. If you have any questions or concerns regarding your order or the product, feel free to reach out!
QUALITY & COMFORT: 97 % stretch nylon, 3 % spandex. These materials enable exceptional elasticity and comfort for your feet and also help these dress socks to keep its shape and stay up.
SNUG FIT: These comfy womens socks have a comfort stretchy texture for a relaxed fit. Due to the smooth and breathable surface you can wear socks all day long without worrying. These socks stay up on your calves without the discomfort of a tight band. Perfect for all seasons wear.
Are you looking for opaque womens socks that can keep shape of your legs? These knee high socks are suitable for almost any occasions and definitely will be a staple to your wardrobe.

Trouser & Dress socks are great for wearing with close-fitting shoes, like pumps and so on. Due to its classic design and assorted colors you can compliment any outfit. This hosiery provides you with comfort and elasticity due to materials. As these ladies socks have non-abrasive and soft surface it will keep your legs comfortable and allow to breathe easily for all day long. Let your feet and legs slip into silky soft womens legwear!

Each pack includes 6 pairs. Choose from various colors including black, white, navy, grey, beige, and coffee. Made with 97% stretch nylon and 3% spandex.